---
We feel delighted to inform you that we have been honoured and awarded by Mahatma Awards 2019 for the impactful work of our NGO. Our entry was selected for Mahatma Award 2019 for Social Good category in Education & Learning Section. This was an International Award where the entries from USA, India, UAE and Africa.
There were 1800 applications in a social good category out of which only 40 were selected and awarded. The most impressive part the jury felt for our organization is the journey of our founder Mrs. Jyoti Tanna, who came to India during the partition period and suffered pain and have gone through several difficulties in her life. Later she comes forward and creates a beautiful organization for the underprivileged children so that they do not suffer the difficulties as she has gone through. They came across our story on Humans of Bombay. Click here see our story on Humans of Bombay.
The Mahatma Awards were constituted in United States to raise global awareness around the positive impact brands, agencies and non-profit have on society. The awards are created to put a spotlight on the society on the most remarkable change makers of our time. The winners recognized are addressing incredibly complex and equally severe problems we face today. Their efforts span global poverty, hunger, disease, education, climate change, livelihood, health care accessibility, disaster response and preparedness.
We take this opportunity to thank each and everyone who support us all these years to create a difference in the society and in our journey to be the change that we want to see in this world. We are truly grateful and we hope that you continue your support also with your Love, Care, Affection & Blessings.
---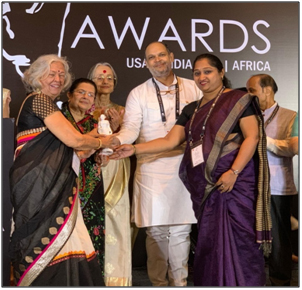 ---